Guidelines effective January 1
5, 2022,
for Eucharistic Celebrations and COVID-19.
January 13, 2022: The Premier of NB and Public Health officials announced several preventive measures to contain the spread of the Omicron variant, COVID-19. In summary, we are moving from level 2 to level 3 on Friday night, January 14, at midnight.
As a result, all
Weekday, Saturday and Sunday Masses, and Celebration of the Word will be canceled
from Saturday, January 15 to Sunday, January 30 inclusively.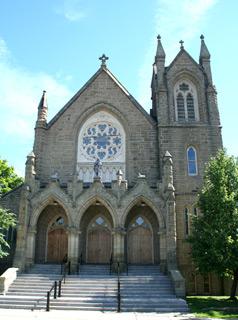 With 1,150 families in our parish, St. Bernard's is a strong and vibrant Christian community with roots dating back 125 years in Moncton.
We are a welcoming congregation of brothers and sisters who gather for communal worship.
We have developed this website to reach out to our parishioners, potential parishioners, visitors to our area and anyone else who may want more information on our liturgies and other activities.