Covid-19: Green Phase: July 31, 2021 - Update
Dear Sisters and Brothers in Christ Jesus.
The province will go Green at midnight on July 30, 2021. This allows us to remove some restrictions in our churches. I want to thank the priests, employees and the many volunteers who have religiously enforced the sanitary measures. Through your dedication, you have stopped the spread of the COVID-19 virus and ensured the protection of the faithful. Thank you for your excellent work and commitment. However, we will have to continue to be careful because COVID-19 is always with us. In the words of Dr. Jennifer Russell, chief medical officer of health: " We will be living with COVID-19, so we encourage New Brunswickers to continue to practise protective health measures such as handwashing, coughing in your elbow, staying home when sick and wearing a mask if you so choose. This virus is still with us, and we should all expect to see cases as normal travel returns. If you have symptoms, get tested. Caution remains the order of the day for all.
The following recommendations apply for the celebration of Sunday and weekday Masses, funerals, and weddings. For baptisms and the sacrament of the sick we can proceed with the anointing of the holy chrism or the oil for the sick as before the pandemic.
Here are the items where there are no longer restrictions
:
1. Entry. Worshippers will be able to enter the church without prior registration and without providing health or travel information. In addition, sanitizer bottles may be maintained at various locations at the entrances or elsewhere, allowing people to sanitize their hands if they wish.
2. Processions and servers. We can go forward with processions and have servers for the mass.
3. Physical distancing. No distancing is required. Thus, the church can be filled.
4. Disinfection. Disinfection of pews and shared equipment is no longer required.
5. Masks. Masks are no longer required, but respect and acceptance must be shown to those who choose to wear them for health or safety reasons.
6. Liturgical materials. "Living with Christ", songbooks, or other materials may be used.
7. Singing. Singing may be resumed as before COVID-19 without restriction.
8. Parish gatherings and catechetical groups. Gatherings may now be held without restriction as to number and distance
9. Holy water. Holy water can be placed in the holy water fonts at the entrances to the church.
10. Masses streamlined on the internet. With the return of the faithful to churches, the number of people viewing these Masses should decrease. This has been an excellent service to our faithful. The parishes involved will decide if they continue to do this to reach parishioners unable to attend church.
The following restrictions are to be maintained
1. Holy Communion: For the time being, as a matter of prudence, parishes are asked to refrain from giving communion in the cup and distributing communion on the tongue.
2. The sign of peace. As a precaution, people are to avoid shaking hands or another physical contact. Instead, they may exchange peace by bowing or making other gesture without contact.
May the Lord bless us and continue to watch over us.
Mgr. Valery Vienneau - Archbishop of Moncton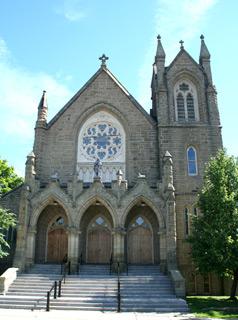 With 1,150 families in our parish, St. Bernard's is a strong and vibrant Christian community with roots dating back 125 years in Moncton.
We are a welcoming congregation of brothers and sisters who gather for communal worship.
We have developed this website to reach out to our parishioners, potential parishioners, visitors to our area and anyone else who may want more information on our liturgies and other activities.